Posted under by SticeOnline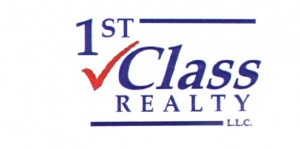 1ST Class Realty, LLC is a full service real estate firm founded in 2010. Our team of Realtors serve Tippah County and All North Mississippi areas. We want every client to get the best deal on their dream property.
When you work with 1ST Class Realty,LLC, Realtors, you can count on a specialist who can answer your questions, apply in-depth knowledge of current market conditions, and access extensive resources that can expedite the sale or purchase of your home. We have the tools to effectively find the property that matches our Clients needs.
1ST Class Realty is a small, but innovative company of individuals dedicated to providing the highest level of Real Estate Services with Ethics, Honesty, and Integrity. Plain and Simple, we follow the Golden Rule, we treat others the way we wish to be treated.
Please let us serve you and make your buying or selling experience a pleasure.
Thank you so much,
Charlene